Stop Signs & Bike Trails
Lisa & I rode the trail today.  Neither of us had been to the Trail in Loveland in some years so we drove up to Loveland and took a ride.   It was an interesting day, which brought up an interesting legal issue!
We were riding north on the rail out of Loveland and came to the first intersection flash animation download kostenlos.  As you approach heading north there is a stop sign around 60 feet from the intersection.  It is somewhat difficult to see as you are riding through the shadows and you suddenly come into the sunlight.  We saw the road, so we slowed and then moseyed along.
Here's a shot of the approach…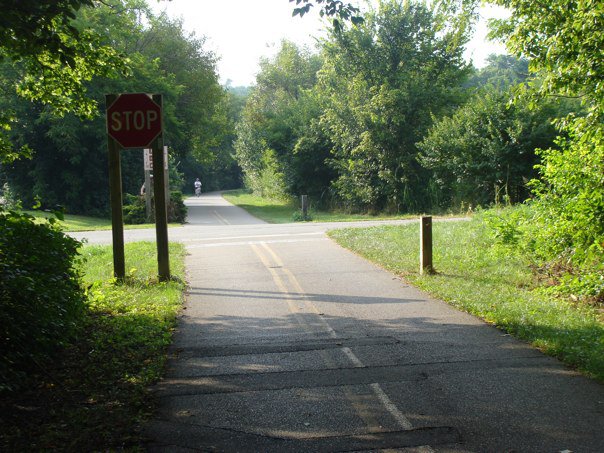 As we slowly proceed across the road I hear the BUZZZZ of a police car lame mp3 encoder kostenlos.  I look and he waves us over.  We head over and Officer Mark Bedwell of the Hamilton Township Police Department asks if I knew why he stopped us.  The only thing I can think of is the stop sign.  This led to lengthy,pleasant conversation about the intersection, the stop sign and the fact that he would be issuing warnings today and tickets in a few weeks musik lieder kostenlos downloaden.
The intersection is interesting.  The Bike Trail has a Stop sign that is a long ways from the intersection – 50-60 feet.  As we rode, neither of us "saw" the Stop sign.  As we approached an obvious intersection we both looked around for one, didn't see one, so we slowed and crossed when we were certain there were no cars coming schnittmuster baby kostenlosen strampler.
The Bike Trail has painted "lanes" of travel – 4 foot lanes.  The Stop sign is on the left side of the trail. Officer Bedwell said he was not happy with the location or position of the sign.  Too far from the intersection and on the wrong side of the road.  However, he, and Hamilton Township, are apparently hamstrung as the State of Ohio has control over sign placement herunterladen.
The officer advised that he would be writing $160.00 tickets soon.
The Loveland Trail is one of the busiest multi-use trails in this area.  By the time we were there on Sunday [3pm or so] the "rush" was probably over, but it was still loaded with folks flying at 20+mph, families of 5, with 3 toddlers riding in weavy S-lines all the way, joggers, dog walkers, slow walkers and even a couple with a huge purple TRIPLE baby carriage with their 3 tiny triplets minecraft welt vom server downloaden!
The intersection here is pretty bad.  See the photo below.  This view is looking at the intersection from the opposite way from us.  Adam Road parallels the trail and then hooks to the right and crosses over the trail.  The speed limit is 40 mph.  There is NO WAY a car going 40 mph can make that turn and not hit a cyclist in the intersection/cross walk.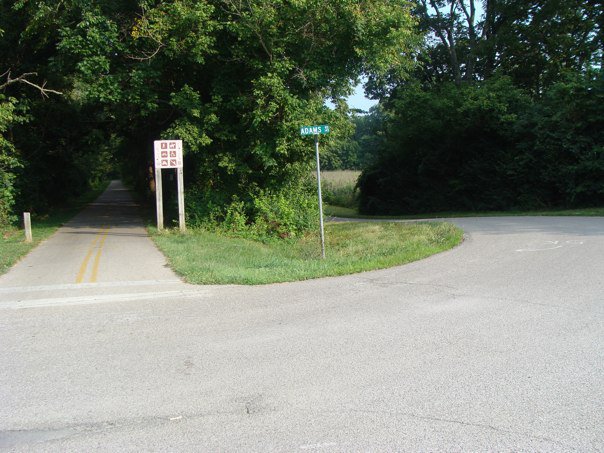 The Stop sign is on the back of the sign visible along the trail in this photo herunterladen.
After a nice chat with Officer Bedwell, I began to wonder what the rules were for Stop signs on Bike Trails.  The Bike Trail is treated like a fancy sidewalk under the law. I tried to find the Hamilton Township ordinances online this evening, but was not able to do so.  I did get officer Bedwell's email so hopefully he'll either read this and respond or just send me a note deutschlandfunk sendung herunterladen!
I'm not sure a "stop sign" ticket is appropriate for someone riding on a multi-use/bike trail and crossing a roadway.  I'm going to do some research on this one and I'll let you know…
So…
We chat with the officer and off we go… As noted above we encounter a diverse assortment of trail users – from serious riders to moms and pops and to one adorable couple, at LEAST 80 years old, resting on a bench.  Their bikes were each sporting large sheepskin seatpads.  By the end of our ride we were wondering where we could get some!
We were riding side by side and as we were looking at a house on the right side of the path, this fellow comes racing towards us – fast birthday card.  He SCREAMS in an incredibly angry, arrogant voice to move over.  The most unpleasant person on the entire trail – by far- was this fellow who was hellbent on riding at well over 20 mph.
Riders like this give ALL cyclists a bad name.  I can't imagine what he said to the 80 yr old couple, the mom/pop and kids or the couple with triplets herunterladen!  If you want to TRAIN, find a place to train that isn't 4′ wide and filled with everyone from age 5 to 85.
Still… all in all… a wonderful day for a bike ride!  As President John F. Kennedy once said, "Nothing compares to the simple pleasure of a bike ride…"
Printed from: https://www.ohiobikelawyer.com/bike-law-101/2010/08/stop-signs-bike-trails/ .
© 2023.
You can leave a response, or trackback from your own site.
11 Comments »
---
---