Ten years ago?  Was that in the Bicyclotonic Era?  I've got SHOES that are ten… suits that are 20!  Yet, consider this…
From D.C weihnachtsgrüße zum downloaden kostenlos. comes an interesting post – the author makes a case for changing "the rules" for riding bikes, questioning why we need to follow the same rules as giant two ton behemoths herunterladen.  Unspecified "changes" need to be made to the rules.  Bikes shouldn't have to follow the same rules.
"…These updated rules should provide better clarity about situations that didn't really exist 10 years ago flatcast player downloaden. For example, vehicles turning right when there's a bike lane. Is the person driving supposed to wait for the bike? Or is the person on the bike supposed to overtake the car as the driver waits in the bike lane to turn right? What if someone double-parked their car in a bike lane, what is the correct action for the cyclist?…"
Many of the following comments militantly argue against rules at all – criticizing the "Law & Order Brigade" of cyclists who think we need to have some rules to control the orderly flow of rules on the rules…
"… the L&OB are not unlike the Vehicular Cycling (VC) folks who actively quashed the growth of cycling in the United States for the past 30 years. It is possible that VC folks, having been exposed and discredited, have merely shifted their pro-driving rhetoric to one of making cyclists obey laws which nobody else obeys, in order to make cycling as inconvenient as possible…. "
Below is the post I added to the conversation…
— — — —
WHY FOLLOW THE RULES?
Interesting approach – don't treat bikes like vehicles.  In an era where there are MANY in politics looking for any excuse to kick us OFF the roads, the easiest would be for them to say, "Look, they don't want to follow the rules."
As an avid cyclist, a lawyer who has handled 250+ "bike cases" in which cyclists have been hurt or killed, someone who has researched bike crashes and drafted legislation, and someone who has written "bike laws" with the best interests of cyclists at heart and tried to work them through "the system," I see the author's approach here as naive and idealistic – creating a sort of Bike Utopia, where everyone sees and appreciates the merits and benefits of cycling and allows cyclists to use the roadways without really needing to follow "the rules" – so, what, they're not so much "rules" really, eh?  They're actually more like guidelines?
Roadways are public ways – designed to allow the public to move about the country in an orderly fashion.  Rules are needed to insure this orderly flow of "traffic."  Traffic is a brightly woven cloth with threads of many colors – the dark, smokey, polluted greys and blacks of cars, trucks and busses, and the bright, vibrant hues of bicycles, trikes, recumbents, fixies, 29-ers, hard and soft tails, and "kid" bikes.  The rules for moving all this traffic around safely must take ALL types of traffic in mind – from Amish buggies to slow moving farm equipment to bikes to 4-wheelers to 18-wheelers… Maybe life for cyclists is better in D.C. and has evolved to that Utopian place where rules are no longer needed and folks can just LOOK and be safe – not so here.
The "law" generally divides the world into two parts – the part "On" the road and the part not on the road.  If you want to drive a vehicle on the road, you need to follow the rules.  For bicycle operators, this means some very basic stuff- stopping at red lights and stop signs – not driving drunk – etc etc etc.  While the merits of particular rules can be debated, the reality is that rules are needed to make traveling in traffic "predictable" and safe.
I'm currently doing a detailed study of EVERY fatal bike crash in Ohio over the past two years – a study I hope to continue each year.  I'll be releasing a detailed report in time, hopefully, for Bike Month.  This study involves obtaining and independently reviewing and analyzing the crash reports, witness statements, photographs, accident reconstruction analysis and any other publicly available documents of each deadly crash to see if the police "got it right" when detailing the "cause" of the crash.  Ohio's cycling fatalities usually are in the 10-20 range, so, to me, this type of detailed study was "do-able" and the numbers are really too small to use statistically.
Of the 9 fatalities in Ohio in 2010, 2 involved cyclists who ran stop signs at bike path/roadway intersections.  One involved an older man who was riding at night, without a light, in dark clothes, while very drunk… [funny thing, from my reading of the police reports, the latter rider may have been the LEAST culpable of the three…in terms of accident causation!  He was riding well to the right, possibly off the road and on the berm, when he was rear-ended by a hit/run driver.  Police did a rather shabby investigation, though, as far as accident reconstruction probably, I suspect, because he was drunk, and it was night, and he had no light so Voila, he was "invisible" and the hit/run motorist couldn't "see" him…given where he was struck, and where the debris scattered, the motorist was clearly, to me, off the roadway when she clobbered him…but that's another story]
People writing about "injuries" in this thread have picked up a very valid point.  "Injury" cases are much harder to classify and track.  Injuries range from skull fractures and TBI's to road rash.  However, virtually every fatal crash generates a very detailed report, which makes for a better independent study.  For any analysis of bike crashes leading to "injuries" we are stuck with big numbers, statistics based on a possibly faulty street-level analysis leading to hurried conclusions noted with an "X"  in the "fault" box of a police report by a beat cop who may have better things to do …
So how does this help us look at the "Idaho Stop" and "let's not follow the rules" arguments? First, anyone who has been involved in cycling advocacy for more than 5 minutes knows that selling a change of the rules is very very tough no matter WHAT the change is… if the change is "we're gonna let cyclists slide through stop signs" I can guarantee you that you will never get the votes in Ohio's legislature to get that through.  There is no sense in wasting what little political capital we have on dead issues with no chance of passing.
Further, I see the "Idaho Stop" as potential suicide in big cities.  You can say what you want about people being smart enough to not pull out in front of cars, it happens all the time under CURRENT "stop" laws… it's a bit like watching a punch press… you think you've got it timed so you can stick your hand in there and not get clobbered but the odds of you getting stuck… at some point over time.. are pretty good without rules and guards to protect you – 1:1 maybe – even though you KNOW it would be stupid to let that thing smash your hand and you KNOW you can time it so you can stick your hand in without getting smashed – over time, stuff happens… people get tired or in a hurry or they are having too much fun to pay attention, they don't "see" what there is to be seen, perception/reaction times suffer… Following "stop sign" rules and other rules keep you safe while participating in the very serious business of moving about the country!
Finally, if we want "respect" from motorists, we have to earn it on EVERY ride. I've written for many years that every cyclist is an Ambassador for Cycling on EVERY ride.  The meter that measures public perception of cyclists ticks ever slow slightly Positive or Negative with every encounter a motorist has with a cyclist.  When I take a "bike case" to trial, I try to gauge the feelings of jurors about cyclists on the roadway – almost all have negative views based on negative experiences.  This negativity crops up in lawmakers in the form of a "parens patriae" approach – we need to take care of them and keep them safe…how?  By getting them off the road of course!  Not following the road rules just juices up THAT theory.
We've been fighting the battle to stay ON the roads for more than 100 years…In May, 1896 [yes, that's EIGHTEEN Ninety Six], early cycling advocate JB Potter had to remind New York City's Park's Commissioner that he lacked the authority to kick bikes off the roads and relegate them to "cycle paths."  He did so by pointing to a law which then allowed cyclists to use EVERY roadway "…open to the free use of persons using carriages drawn by horses…"  The "car" wasn't even on the legal radar yet.  Let's not give "them" more ammo in 2011 to justify arguments in favor of kicking us OFF the roads…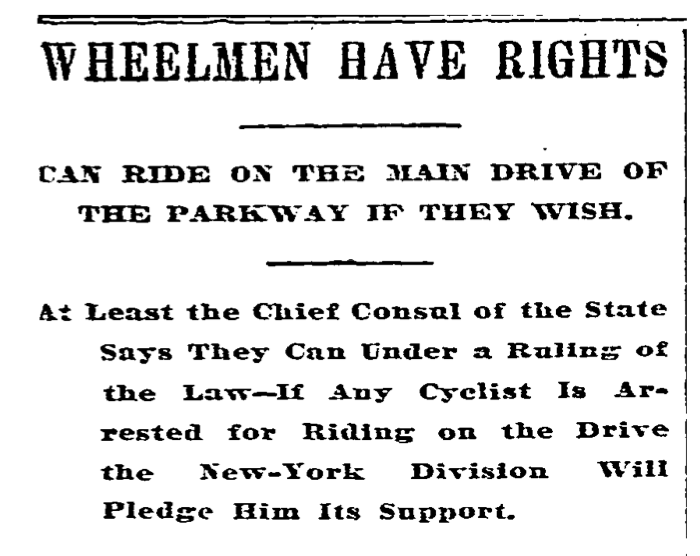 Let's be careful out there!
Steve Magas
The Bike Lawyer
www.OhioBikeLawyer.com
[co-author of "Bicycling and the Law"]
Printed from: https://www.ohiobikelawyer.com/bike-law-101/2011/02/why-follow-the-rules/ .
© 2023.
You can leave a response, or trackback from your own site.
8 Comments »
Trackbacks/Pingbacks
---
---